So I dropped out of W-space in some very empty NPC nullsec in the Stain region. There wasn't a lot going on, but I went exploring for undefended towers and more wormholes. And in this one system (A-SAX0 if you want to go see it for yourself) I found something peculiar.
I'd already zipped about to take a d-scan inventory of the system, and found it entirely free of towers. So you'll imagine my interest when 26 structures popped up when I launched a probe.
At first I had visions of all the fittings for a deathstar POS, abandoned loose in space somewhere for complicated logistical reasons. But soon my probing made it clear these were warp disruptor bubbles, all in the same place. Was I probing down the world's largest rapecage, placed at a safespot for no obvious reason?
Not even that. Eventually I found this: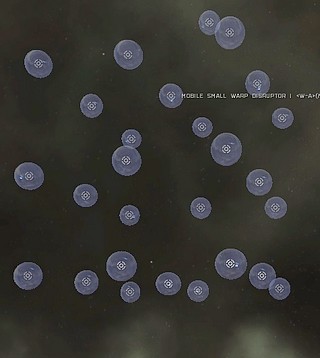 What you are looking at is 27 anchored small warp disruptor bubbles, aligned in a widely spaced grid, with one extra off to the side. What is it for? I have no idea. But somebody took a lot of time to build it!