…a war declaration, the bird, and a compliment.
Actually, that's not true. Outside of EVE space, I got some very nice presents, and had an excellent dinner with family.
But when I logged in? Another story.
What to my wondering eye should appear but the following:
Equilibrium L.L.C. has declared war on Ironfleet Towing And Salvage. After 24 hours fighting can legally occur between those involved.
I searched my conscience, and found it free of recent offenses. True, there was a guy who got huffy yesterday over 600 cubic meters of ore:
Tootenh'amon > give me my stuff back plz
Marlenus > I don't have your stuff?
Tootenh'amon > yes, you do. you took it from my cache
Marlenus > If it was yours, it would be in your cargo hold, or in your warehouse
Tootenh'amon > or in cache in which i store it
Marlenus > You mean, the can you jettisoned it in?
Tootenh'amon > yes
Tootenh'amon > we can resolve it two ways
Marlenus > Jettison = "throw away"
Tootenh'amon > you return me the goods
Tootenh'amon > or…
Marlenus > I'm a salvager, wouldn't be much profit in returning salvaged goods.
Tootenh'amon > well, fortunately enough, next time when you'll see you around i'll know to let you salvage some missiles and plutonium rounds as well.
Marlenus > Do as you see fit, but you might want to have a look at the ironfleet.com corporate blog … others who've felt that way have found out that shooting at Ironfleet is a losing proposition.
Tootenh'amon > just skip it, all right? You took my goods. when i shoot you it doesn't matter if you are allah mc muhammad ali, you go down. beware of our next meeting.
But Toot didn't really sound war-deccing mad. Better look up the corp info on Equilibrium L.L.C. Brand new corp founded three days ago, interesting. Two members? Curiouser and curiouser. CEO?
Ah. Light dawns on Marble Head (mine, that is.) The CEO is Chebri, she of the unexpected Hound. I wonder why she left AC-ME? Not just so she could come after little old me, surely?
Irrelevant aside: Chebri's portrait is about as babealicious as EVE portraits get. Look: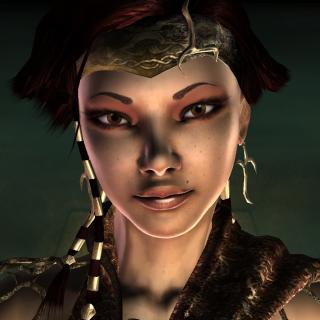 My one encounter with Chebri was professional and smack-free, so this war shouldn't be too unpleasant. Let's check her bio for clues to current state of mind, shall we?
Pilots that need to die:
-Ore thieves
-Salvage thieves
-Pirates
-Macro Miners
-Macro Ratters

For Shamus Horus and Marlenus

[ASCII art of somebody gesturing with middle finger]

Because they are thieves.
Ugh. Judgmental much?
Apparently the professional politeness Cordus extended me did not reflect the sentiments of the AC-ME rank and file. Sadly, it sounds like Chebri is another Eve player who is not happy unless she's telling someone "you're not playing the game right." Ah, well, it takes all kinds.
So, we've covered the war dec and the finger. Where was the compliment?
Well, it's subtle. But if, as seems likely, AC-ME spun Chebri off into a separate attack-dog corporation to spare themselves and their new alliance (!) the devastating consequences of Ironfleet's awesome retributional wrath, isn't that a compliment of sorts? As a low-player-count corp with a stated policy of avoiding the sort of open combat that makes the pew-pew crowd happy, exactly how dangerous did they think we could be?
Sounds like a compliment to me.